£1.6bn Greater Gabbard wind farm contractor Fluor is pursuing damages over mast foundation design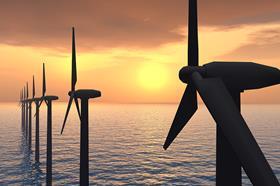 Ramboll is facing legal action over alleged engineering problems on the £1.6bn Greater Gabbard offshore wind farm off the coast of Suffolk - one of the world's largest offshore wind farms.
The engineer is being pursued for £1.4m in damages in the High Court by the wind farm's contractor Fluor, which built the 140 wind turbine project, completed in September 2012. The Greater Gabbard project was plagued by problems and delays, finishing 18 months later than its original planned completion date of March 2011.
In Fluor's claim against Ramboll, seen by Building, the US-based construction group reveals it has itself had to pay a £32m settlement to the wind farm's developer, Greater Gabbard Offshore Winds Limited (GGOWL), in a separate dispute over issues with the foundations of turbines on the project.
Fluor is claiming compensation from Ramboll for the cost of replacing a meteorological mast at the farm, which Ramboll was employed to design the foundations of in 2009. Fluor alleges Ramboll's engineering designs for the mast's foundations were not done "carefully and/or professionally"
Fluor quotes communications from Ramboll, sent after the mast was installed in February 2012, where Ramboll admits there were "errors" in its calculations and that the "fatigue life" of the mast, as designed, was "less than one year", when it was supposed to last at least 25 years.
The claim said: "Had Fluor known at the time that the analysis and calculations by Ramboll, and the conclusions contained in the February 2012 report were wrong, it would not have allowed the meteorological mast to be installed."
The court papers also disclose Fluor is pursuing compensation from Danish engineer Carl C -which designed the mast itself - claiming Carl C should bear some of the total £1.6m cost of replacing the mast.
Fluor reached its £32m settlement with GGOWL - a joint venture between energy firms SSE and RWE - in May 2013. GGOWL had found 52 of the turbines' foundations were "defective". Fluor claimed £300m from it to pay for fixing them, butGGOWL counter claimed. Fluor said its £32m settlement with GGOWL meant it was "relieved of any further responsibility" on the project.
GGOWL and Fluor declined to comment further. Ramboll was unavailable for comment.
A spokesperson for Radius Tech, Carl C's UK agent, said the claim would be "robustly defended".
The government has given the green light to the Project One wind farm scheme off the coast of Yorkshire, which will incorporate between 150 and 332 wind turbines.