Firm partners with Liverpool John Moores University and Coleg Cumbria for qualification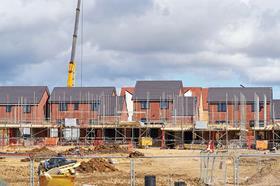 Redrow has teamed up with Liverpool John Moores University (LJMU) and Coleg Cumbria to establish the UK's first dedicated housebuilding degree.
The first students to embark on the three-year degree, named Construction Management - Housebuilding, will be Redrow team members. They will start the course in September, with the firm hoping to open the qualification to other housebuilders over the coming years.
It is aimed at giving candidates a full overview of housebuilding skills, from housebuilding quality, project management, health and safety, business skills and negotiation, to relevant aspects of law, mathematics and economics. Students will complete six modules each year.
They will be assessed through exams, coursework and a final year dissertation project. Each year there are six block-weeks of classroom learning to be taught in partnership with LJMU's Department of Built Environment, Coleg Cumbria and business experts from Redrow, with the rest of the time providing virtual learning, site visits and tutorials. Redrow said this means students will be able to combine working at Redrow with their studies.
Team members with a level three qualification or minimum five years in the industry can be nominated for the programme, with the firm expecting up to 15 people to participate each year. Last year, Redrow welcomed a record 353 trainees through its training programme last year – up 19% from 2016.
Karen Jones, group HR director at Redrow and trustee at the CITB, said: "The housebuilding sector has a real opportunity to innovate the way we develop and deliver skills training to ensure colleagues can fulfil their potential and progress in their careers.
"Part of that means working in partnership with further education and higher education providers to develop new pathways that enable recruits to develop the aptitude, attitude and strategic nous to deliver communities at scale."