Findings of Competence Steering Group stretch to nearly 150 pages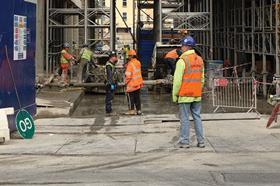 An interim report aiming to improve the competency of those working in the construction industry has been released.
The 149-page report, Raising the Bar, has been produced by the Competence Steering Group (CSG) as part of the industry's response to Dame Judith Hackitt's post-Grenfell review of building regulations and safety.
Construction Industry Council chief executive Graham Watts, who is the chair of the CSG, said: "We are particularly concerned to understand whether we have the balance of competence enhancements at a level that will truly raise the bar and lead to behavioural changes, and whether there are unintended consequences that we should understand.
"The combination of enhanced competence standards for those working on higher risk buildings and an independent process for overseeing this new regime will – irrespective of anything else that arises from the Hackitt reforms – mean that the industry is at last taking the life safety of those who will occupy the buildings we create just as seriously as the safety of those who build them."
The report has laid out 67 recommendations – including the government take the "lead and require that any company or individual working on government construction projects must meet the competence frameworks set out within this report".
It also said the government should ensure that those working on site should be registered or certified by a recognised professional body or certification body.
The interim report is now out to consultation, with all responses required by 18 October.