Creating a competence framework to respond to the Hackitt report has brought about the biggest-ever alliance of construction organisations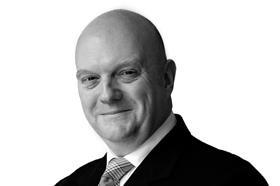 This October will mark the 40th anniversary of my career in the construction industry. For the first 38 of those years, I would have argued passionately that the UK had the best construction professionals of any country in the world. Our professional institutions were globally admired – why else would people from across the world aspire to become members? I had also witnessed the industry achieve a paradigm shift in prioritising the health and safety of its workforce.
That awful night on 14 June 2017 changed my opinion completely. What we have learned since that dreadful tragedy is that many circumstances may have contributed to the behaviour and rapid spread of the Grenfell fire, and failings in the relevant competence across all those working on higher-risk residential buildings (HRRB) is a key ingredient in that mix.
The Hackitt report threw out a challenge to industry: get your act together and come up with an improved set of systemic competences within a year, or government will mandate an imposed solution. I took up that challenge a year ago by agreeing to chair the Competence Steering Group, working with the support of the Construction Industry Council (CIC) and many partner organisations, and also in close co-operation with the Ministry of Housing, Communities and Local Government (MHCLG).
It is not just residents' safety from fire spread in high-rise towers that has concerned us. Had the 2016 collapse of nine tonnes of masonry at Oxgangs Primary school, in Edinburgh, happened on a different day, we might have been considering industry failures that killed schoolchildren. Significant concerns have also been raised by the collapse of Nottingham City car park in 2017 and the failure of large-scale concrete panels in several tower blocks. These issues – and others – mean that it has been essential to focus on competences to improve the safety of those who occupy and use the facilities that we construct.
It has been an enormous undertaking, bringing together the largest alliance of construction-related organisations ever to work towards a common purpose. More than 125 institutions and associations from across the construction, built environment, fire safety and building owner/ manager sectors have come together to raise this bar.
Report for consultation
Hackitt recommended that 10 areas of competence should be addressed. The Steering Group extended this to 12, setting up working groups of experts to develop enhanced competence frameworks in each sector, plus other groups to look at the principles of competence and how to manage the process through an overarching competence body.
Our final report is due to be issued in mid-June and will dovetail with the government's own consultation on post-Hackitt legislation to create an enhanced regulatory regime for HRRBs and define accountable roles for dutyholders. The competence report will also be issued for consultation (with a consultative conference on 29 July) and we look forward to receiving views from across the industry.
The report will propose enhanced competences, first for the dutyholder roles that we expect to be enshrined in law, which are set to include principal designer, principal contractor and building safety manager. This also covers all others working on HRRBs, for instance engineers, installers, fire engineers, fire risk assessors, fire safety enforcement officers, building standards, building designers, site supervisors, project managers, procurement and product manufacture.
The competence report will be issued for consultation and we look forward to receiving views from across the industry
The proposed system will require these enhanced competence standards (including assessment processes, revalidation and CPD requirements) to be governed by new British Standards. All schemes that certify individuals against these standards need to be accredited by UKAS or the Engineering Council. The whole process will be overseen by a Committee for Building Safety Competence – it is proposed this will be housed within MHCLG and may be modelled on the existing Building Regulations Advisory Committee, composed of independent industry experts appointed by the secretary of state. Under these proposals, the MHCLG will maintain a register of competent dutyholders.
There are many considerations that need to be applied to this proposed new regime to ensure it improves life safety for building occupants and users but does not have unintended consequences. The proposals for legislative intervention on HRRBs will inevitably spread to other buildings and structures where vulnerable people live and it is essential that the new regulatory system does not constrain development. We already fail to make our annual target of 300,000 homes – will these new regulations make it even more difficult to build them? It is also essential that the new accountable roles being created have appropriate rewards to match the risk, and it is crucial that they are insurable. But, will this make the cost prohibitive to development opportunity? All this needs to be considered in the consultative process.
Irrespective of anything else that arises from the Hackitt reforms, the combination of enhanced competences for those working on higher-risk buildings and an independent process for overseeing this new regime will mean that the industry, albeit many years' too late, is at last taking the life safety of those who occupy the buildings we create just as seriously as the safety of those who build them.
Graham Watts is chief executive of the CIC. He is a member of the MHCLG Industry Response Group set up in the aftermath of the Grenfell Tower tragedy and chairs the Competence Steering Group