Trust board minutes reveal proposals to get the stalled project back on track have been given to government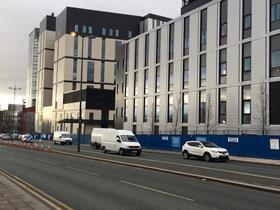 The NHS trust behind the Liverpool hospital being built by Carillion when it collapsed has sent in its rescue plans for the job to government.
Board papers from the Royal Liverpool and Broadgreen University Hospitals NHS Trust revealed plans to get the new hospital back on track were submitted to health ministers last week.
The Royal Liverpool Hospital, which Carillion directors including former chief executive Richard Howson blamed for felling the company, has remained stalled since the contractor collapsed in January.
The board papers, which were published ahead of today's board meeting said: "The Trust has been in discussions with The Hospital Company [the company set up to deliver the new hospital] and the lenders around a rescue package to complete the hospital.
"The Trust team met with lenders and NHS Private Finance Unit and Infrastructure Project Authority to agree the options for the way forward."
It said the current plan was a submission put before ministers on the 21 May.
The papers said that the Trust "expected to appoint an established construction contractor to take over and complete the build, utilising existing sub-contractors", once a funding and action plan had been agreed.
It also said Carillion's collapse meant there was "potential for a 12 month or greater delay".
The job, which was worh £335m when Carillion was appointed in 2013, was originally scheduled to be completed in 2017, with the date pushed back a number of times.
Cracks in structural concrete beams have been blamed for both delays and cost escalations, with Arup employed to carry out a structural review of the building. This is due to be completed later this summer.