Collapse of contractor Carillion means opening could be pushed back to 2019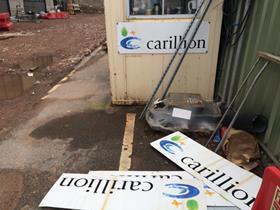 Carillion's collapse has caused a "significant delay" to the opening of the new £335m Royal Liverpool Hospital, with the Trust's chief executive admitting it is unlikely to be finished this year.
Work on the proposed 646-bed hospital ground to half on 15 January when Carillion announced it was entering compulsory liquidation.
Royal Liverpool and Broadgreen University Hospitals NHS Trust chief executive Aidan Kehoe said The Hospital Company, the private sector consortium that was set up to deliver the building, is working to secure the services of existing subcontractors and former Carillion construction staff to continue work as "they have the best understanding of the work that is required to finish the job".
But he admitted getting them back on site may take some time due to the financial difficulties they have experienced following Carillion's collapse.
"There are highly complex discussions taking place between various parties to get sub-contractors back on site as soon as possible," said Kehoe.
"However many of these firms are facing financial difficulties as a result of Carillion's collapse, therefore this process will take some time.
"Given this situation, we expect a significant delay and it will prove challenging to get the new Royal finished before the end of the year."
The Royal Liverpool Hospital, along with two other PFI jobs – the Midland Metropolitan Hospital in Smethwick and a scheme to build a bypass around Aberdeen – blew a £375m hole in Carillion's UK accounts when it announced a group-wide £845m writedown last July.
The new 646-bed Royal Liverpool hospital was originally scheduled for handover by March 2017, Carillion revised this date to 28 February 2018 but in December told the Royal Liverpool and Broadgreen University Hospitals NHS Trust that it could not meet this date.
Delays have been caused due to extensive asbestos in the ground that required removal and issues with cracks in beams that required substantial remedial works.
The issues that hit the much publicised problem job at the Royal Liverpool University Hospital were also on the agenda at this morning's government inquiry into Carillion's collapse.
Richard Howson, the firm's former chief executive, said: "We found a cracked beam. If I had walked you around Royal Liverpool a year ago it looked finished, paint on walls, ceiling tiles in, carpets down. We decided to remodel the whole structural frame using independent engineers to see if there was the potential for more cracked beams and there were eight cracked beams that needed remedial works.
"It took us two months to ascertain that and then took us four or five months to do the remedial works to these large concrete beams, which caused a delay to the end of the year. That added £20m of cost to our completion.
"It is a very exceptional event to find beams that have cracked that have been designed by a professional designer."
Last month, Kier Group chief executive Haydn Mursell told Building the contractor wouldn't rule out completing Carillion's work to build the new hospitals in Liverpool and the West Midlands – but only if the current terms and conditions were torn up and redrawn.