House of Commons not scheduled to sit on day Aldous Bill meant to be heard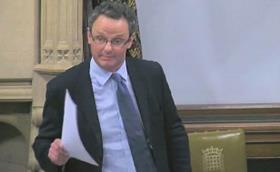 Plans to reform retention practices in the construction industry look set to be dealt another blow with the second reading of a private members' bill set to overhaul the practice likely to be pushed back for a fifth time.
Tory MP Peter Aldous' (pictured) Construction (Retention Deposit Schemes) Bill 2017-19, was due to be heard for a second time in the House of Commons on 25 January.
But according to the parliamentary timetable and a spokesperson for parliament the House of Commons is not currently scheduled to sit on that day, meaning its second reading will have to be rearranged.
The second reading of the bill has already been pushed back four times, having been due to be read in April, June, October and November of last year.
The bill was first heard on 9 January 2018, six days before Carillion went bust.
A new date for the second reading is yet to be confirmed.
Meanwhile, a 10-minute rule bill by Labour's Debbie Abrahams proposing the use of project bank accounts on all public sector jobs worth more than £500,000 was given the green light to be heard for a second time yesterday.
The bill, titled Public Sector Supply Chains (Project Bank Accounts) Bill, is designed to ensure small businesses are paid on time and protected from contractor insolvency higher up the supply chain.
The second reading is currently scheduled for March 2.