Rogers Stirk Harbour & Partners teams up with London council to develop flat-pack homes for rent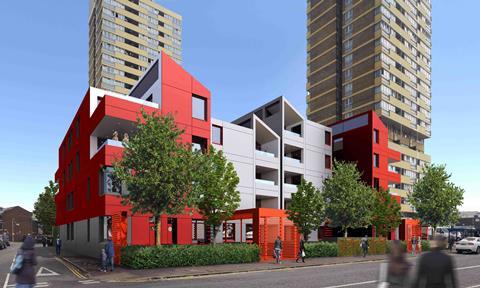 Rogers Stirk Harbour & Partners is to work on Britain's first large-scale council-developed private rented housing.
The pioneering project will see Newham council set up a company to build 3,000 properties over the next 13 years which it will let at or below market rents.
RSHP has landed the design of the pilot scheme, The Tanneries, which will involve 36 modular two-bed homes erected on the Leather Lane estate in Stratford.
Each flat will consist of two fully finished pods manufactured off site. As they arrive they will be assembled into four- and five-storey buildings. The entire build programme will take six months.
Richard Rogers and Newham mayor Robin Wales announced the creation of the new council-owned company, Red Door Ventures, at a groundbreaking ceremony this morning.
Rogers said: "We are delighted to be designing this pioneering scheme for Newham council. Their ambitions for high-quality, well-designed and affordable homes that can be delivered efficiently is perfectly suited to our off-site construction approach."
RSHP has previous experience of off-site construction, including its Oxley Woods scheme in Milton Keynes and three-dozen £30,000 flatpack homes for the YMCA in Mitcham, south west London.
Wales said Newham's new company would make a "significant contribution" to alleviating the housing crisis. He said they chose RSHP because of its reputation for "innovative design".
"Red Door Ventures will provide a new offer in the private rented sector – stable, reliable and high-quality homes for residents to rent from a trustworthy landlord," he added.
Initially the homes will be available for residents at market rent or below with a third set at "affordable" rent subsidised by the council.
But Wales vowed to increase this proportion to at least 50% once the scheme is established.
"This would be a much bigger proportion of truly affordable homes than anywhere else in London," he said.
Red Door will make Newham the first local authority to deliver a large programme of private rented homes for residents.
To finance the early stages of development the council will provide loans to the company as a commercial investment.
This story first appeared on Building Design