Report will help surveyors measure environmental impact of buildings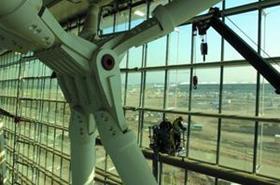 The RICS has launched a guidance paper on embodied carbon for the first time.
The report will help surveyors measure the carbon content of building materials.
It has been produced in response to demand for better accounting of the environmental impact of buildings and the government's low carbon construction strategy.
Lead author of the paper Sean Lockie said: "Embodied carbon is really significant because it is carbon emissions we emit today through manufacturing the products we use on our projects.
"In construction, carbon is emitted during the construction process through the extraction and processing of resources to make building materials like cement, bricks, glass etc.
"The RICS methodology for calculating embodied carbon gives the surveying industry a consistent methodology for calculating and then mitigating the carbon emitted.
"It will give the QS a framework to calculate the embodied carbon in a systematic, quick and carbon significant way."
The Methodology to Measure Embodied Carbon of Materials paper is available at http://www.rics.org/embodiedcarbon.