UK's largest private contractor looking at float by 2024
The appointment of a new chief executive at Laing O'Rourke makes a public listing of the company all but inevitable, senior figures in the industry have told Building.
The country's largest private contractor could pass out of family control by 2024 if it sticks to a timetable founder and current chief executive Ray O'Rourke outlined over the summer.
Last week the firm's chairman Sir John Parker announced O'Rourke will be replaced by a senior executive at FTSE-listed Anglo American.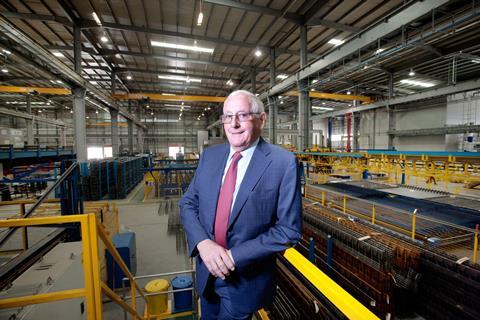 Seamus French, the mining giant's chief executive of bulk commodities and other materials division, joins in January as managing director of O'Rourke's Europe hub and will take over from O'Rourke himself as group chief executive at the end of the summer.
O'Rourke, who turns 75 in January, will step down and join younger brother Des as a deputy chairman.
Rivals Building spoke to say the move to appoint the 59-year-old Irishman points to the firm readying for a float – rather than trying to flush out a buyer.
"It's clear they're preparing it for a float," one executive said. "John Parker is an incredible individual and he's done a lot to get corporate governance up to scratch. This is all part of that.
"Seamus, who I've never heard anything bad about, was probably never going to be chief executive of Anglo American. This is a good opportunity for him [to be chief of a listed firm]."
He added potential internal candidates, including O'Rourke's son Cathal as well as Declan McGeeney, the firm's director of infrastructure, and Paul McNerney, UK building director, would have been marked down for not having enough experience at a FTSE listed company.
Cathal is stepping down from leading the Australia business at the end of its current financial year next March and will stay on the group board as a non-executive.
One boss said: "Cathal is bright and a genuinely nice guy. But he doesn't have the drive of his dad. Declan understands the harder end of construction but wouldn't look good [to investors] for the IPO [listing]. The same with Paul who is very commercial."
Laing O'Rourke made the unusual step of revealing the length of French's contract, three years, and a spokesperson said: "It is the term of the contract Seamus has signed and we decided we wanted to be transparent about it."
One chief executive said: "That might be to do with the float. Equally, he [French] might have wanted three years because it has been a bit of a revolving door there. But there was no obligation for them to make that public."
Cathal stepping down effectively rules out the possibility of the firm being handed on to the next generation of O'Rourkes, while overseas interest is thought to be patchy.
"The Chinese had a look some years ago but they were only floating around," one boss said. "Big European contractors have given up on big acquisitions."
For a float to happen, most agree the firm has to be making more money and demonstrate future profit growth and pipeline of work.
In its last set of results, Laing O'Rourke saw pre-tax profit fall 9% to £41.4m in the year to March 2021 on revenue flat at £2.5bn.
"I think they've got to be doing about £100m [profit]," one executive said. "The market is not desperate for another contractor to be listed."
Another added: "It's got to be about risk versus reward. They've got to show steady profit growth and a pipeline that's underpinned by future strong growth. Being listed is about managing constant short-term expectations. It's pretty relentless and all about the numbers. If you make money, great, but if you don't, you're a complete failure. It's pretty binary."
A chemical engineer by background, French said: "Ray, Des and the leadership team have set some very exciting ambitions for the next few years and I'm confident we have the people and experience to achieve these goals."