Losses at engineering arm sees firm's profit nosedive by more than 40%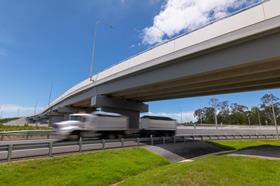 Lendlease said huge losses at its up-for-sale engineering business helped send the group's pre-tax profit nosediving by more than a third last year.
The firm, which is listed on the Australian stock exchange, said it had booked a A$500m (£277m) hit at the division, which also includes its services business, following problems on three road schemes in Australia – a tunnel scheme in Sydney called NorthConnex, a road widening job in Brisbane called Kingsford Smith Drive and a motorway job on the outskirts of the same city called Gateway Upgrade North.
The Gateway scheme (pictured) has been operational since March with the other two jobs due to be completed next year.
Losses at the business more than doubled to A$461m (£256m) from $218m (£121m) 12 months earlier.
Earlier this year, the firm said it had put the business on the market and, announcing its annual results for the year to June, said it was in talks with potential buyers. "Several parties are undertaking detailed due diligence" it added
It said future restructuring costs at the engineering business of between A4450m (£250m) and A$550m (£305m), which it announced at its half results in February, had not changed.
The problems have seen the firm hit with a pair of class actions from law firms on behalf of angry investors over a share price plunge last November.
Maurice Blackburn and Phi Finney McDonald have both begun action, claiming Lendlease did not keep shareholders "properly informed" of the problems. Lendlease has said it will "vigorously defend" both claims.
The results took the gloss of its core developments and construction business, which includes schemes such as the Elephant Park residential project at Elephant & Castle in London and the new Google headquarters building at King's Cross, which the firm said posted a A$804m (£446m) profit – although this was down from the A$960m (£533m) it posted last time.
In its annual report, which came out at the same time as its annual results, the firm gave no update on the replacement for Dan Labbad, Lendlease's chief executive for Europe who is leaving to head up the Crown Estate at the beginning of next year. Labbad picked up A$3.2m (£1.8m) during the period, up from A$2.9m (£1.6m) last time.
Pre-tax profit at the group slumped 42% to A$620m (£344m) on turnover flat at A$16.4bn (£9.1bn).