Dutch contractor seeks to reassure investors after 17% share price fall on Friday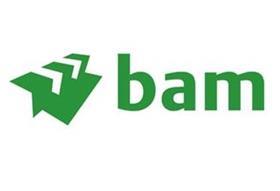 Dutch contracting group Royal Bam has issued a statement seeking to reassure investors, after its share price fell 17% on Friday.
Royal Bam's shares fell 17% on the Amsterdam stock exchange, Euronext, to close at €1.67 on Friday, down from €2.02 the previous day.
However the share price recovered these losses in early trading this morning after Royal Bam's statement, recovering to €2.06.
Royal Bam, which is the parent company of UK firms Bam Nuttall and Bam Construction, said it "noted the significant movement on the share price" on the day and said it is set to report a "break even" pre-tax profit in its results for the first half of 2014, scheduled to be announced on 21 August.
Royal Bam said the situation on two problem jobs in the UK and Germany – which prompted it to announce €75m (£60m) of job losses last month – was "stable and unchanged".
The firm is currently on a €100m (£79m) cost cutting drive to shore up its finances, including asset sales, a process the firm also reconfirmed today.
The firm added it was "within all its banking covenants as at 30 June 2014".