Parent company of Bam Construct and Bam Nuttall hit by raft of exceptional costs and problem jobs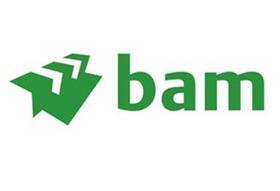 Royal Bam has slumped to a €122.4m (£90.6m) full-year loss, as a raft of excpetional costs and problems on two jobs in the UK and Germany dragged down its results.
The Dutch construction group's UK subsidiary - which incorporates Bam Construct and Bam Nuttall - posted a €3.4m (£2.5m) loss for the 2014 calendar year, after posting a €19.6m (£14.5m) profit the previous year, with the loss attributed to problems on an undisclosed UK civils project.
Bam UK grew revenue 11% to €2.1bn (£1.6bn), up from €1.9bn (£1.4bn).
Royal Bam's overall loss was down in part to €185m (£137m) of exceptional costs, including €53m (£39.2m) of restructuring costs from rolling out its cost-cutting programme, named 'Back in Shape', which started last summer and will run to the end of 2015. Royal Bam axed 650 jobs last autumn as part of the programme.
Other excpetional costs incurred last year include a €93.2m (£69m) writedown on the value of its Dutch land bank positions and a €21m (£15.6m) writedown on two Irish PPP toll road contracts.
Without these exceptional costs Royal Bam posted a reduced adjusted pre-tax profit of €62.2m (£46m), down 17% from €75.2m (£55.7m).
Royal Bam's revenue grew 4% to €7.3bn (£5.4bn), up from €7bn (£5.2bn).
The group first warned investors of the problems on the two civil engineering jobs in the UK and Germany last July.