Dutch parent company of Bam and Bam Nuttall to embark on £79m cost cutting drive after issues on jobs in UK and Germany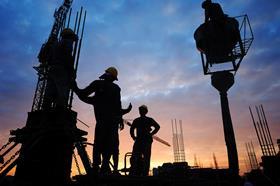 Royal Bam Group will embark on a €100m (£79m) cost cutting drive after being hit by €75m (£60m) of losses on problem jobs in the UK and Germany.
Royal Bam, the Dutch parent company of its UK-based divisions Bam and Bam Nuttall, said this week the "cost reduction programme" would come from "streamlining" the structure of its operating companies
The news came as Balfour Beatty issued another £35m profit warning last week - its fourth since November 2012 - due to problems in its M&E business, which it will now scale back by around a quarter.
Royal Bam said this week that in the UK "unexpected problems at a mid-sized civil engineering project", bid in 2012, caused by "a combination of adverse ground conditions and bad weather", contributed to the project losses.
A spokesperson for Royal Bam told Building that the firm "introduced several procedures to review bids" in 2013 to weed out those priced "too competitively", adding: "If these procedures had been in place in 2012 we wouldn't have taken on this [problem] project."
In Germany "deterioration of a large civil engineering project", also due to "adverse ground conditions", was also "one of the handful of loss-making projects", Royal Bam said.
The firm said it will consolidate its operating structure, sell more of its properties and "investigate all other opportunities to further strengthen its financial position, including divesting other assets."
Nico de Vries, chairman of the executive board, said: "I am extremely disappointed to have to announce these negative developments.
"Our underlying strategy is the right one, but our delivery has not been good enough. It is fully clear to the executive board that Bam must act urgently and decisively to get all parts of the group to contribute positively to our results."
Kevin Cammack, an analyst at Cenkos Securities, said he expected more contractors would "have to deal with the consequence of bidding at zero or negative margins".
He said bidding on projects "in the last 12 to 18 months" could pose problems: "You have to be fearful that firms were taking on very little margin from the outset when they were filling their order books a year ago".