DRMM partner and HS2 design panel chair expected to make full recovery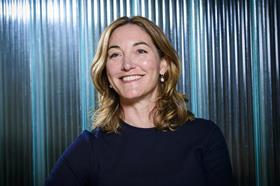 Sadie Morgan has announced she has cancer.
A director in architect practice dRMM, Morgan is also the chair of the HS2 design panel and is a member of Lord Adonis's National Infrastructure Commission (NIC).
In an article for Building magazine, to be published next week, she said she had been diagnosed with breast cancer about four weeks ago.
But she said that the prognosis for a full recovery was good and she added: "I'm really positive. It's boring and annoying just at this moment in time but I'm a fighter and I'll get through it. The reality is I have a good cancer and I'm expected to make a full recovery. I've been incredibly well looked after by the NHS.
"I'm so lucky to have the support, love and good wishes of my friends and colleagues which has helped me through the darkest times."
She is due to have an operation to remove one of her breasts tomorrow (Friday) at St Thomas's Hospital.
She is hoping to attend the opening of the extension to the Tate Modern next Thursday and is planning to be back at her desk later in the month. She said she expected to resume her duties with the NIC and HS2 at the beginning of July.
She is due to have a course of chemotherapy which is expected to last around six months.