Retailer plans to continue to open supermarkets, as well as to grow share of convenience store market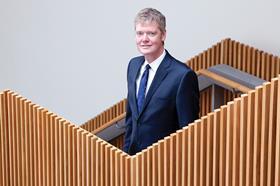 Retailer Sainsbury's remains committed to around £1bn of new build investment every year over the medium term, despite rivals scaling back development plans.
In an interview with Building, Dean Clegg (pictured), Sainsbury's store development director, said the retailer remained committed to developing 1 million ft2 of new space each year over the medium term – down only marginally on the 1.2 million ft2 developed in 2011.
He said this comprised around £1bn in investment each year for the foreseeable future, with the retailer building around 10 or more supermarkets each year, plus a few extensions, as well as opening around two convenience stores every week. "Our plan is to maintain that. We've got the pipeline to do that," he said.
The retailer's commitment to its development pipeline is in contrast to Tesco's announcement last month that it had scrapped 100 UK schemes, forcing it to make a £804m property writedown.
The property writedown – coupled with a £1.2bn hit to profit from exiting the US market – led Tesco to report a fall in profit in its full-year results for the first time in 20 years.
Clegg said Sainsbury's was not about to follow Tesco by focusing almost exclusively on the convenience end of the market. Instead he said it would maintain a "good mix of investments".
"Our most loyal customers shop at a large supermarket, they do top-up shops on the way home from work and they shop online as well," he said.
"It's important that we are in the mix in all those three areas."
Clegg said the firm also had plans for 15 major store refurbishments this year and between 15 and 20 a year over the coming years.
He said the retailer's strategy was for every store to have a major refurbishment every 10 years, with a refresh every five years.