Boost in demand for preconstruction work hints at revival across sector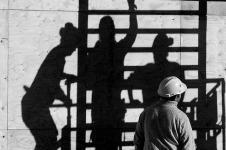 Demand for staff working on preconstruction stages of projects is increasing, hinting at signs of a recovery in the industry, a new salary survey has found, writes Katharine Barney.
The survey, undertaken for Building by recruitment consultant Hays Construction, found an increased demand from contractors for staff to work on the preconstruction stages of projects, such as bidding and cost estimation. This might suggest a knock-on effect for jobs throughout the construction process.
While pay was relatively flat overall, rising 1.3% across all those who Hays placed in work over the last year, senior estimators saw the largest pay increase of 9%, up to an average of £46,090.
The second highest rises were in the salaries of assistant planners, with a pay increase of 7.1% to £23,272, while assistant quantity surveyors had an average pay rise of 4.9% to £23,181.
The survey found the rise was not restricted to London, with the maximum salary reported paid in five regions outside of the capital.
Lynne Crowe, director at Hays Construction and Property, said there was evidence of demand for other types of professionals involved in the early stages of construction projects.
"They can see architecture practices getting busier and that things are picking up. Unless they put people in at that front end, they won't have any hope of winning those jobs," she said
The survey found the largest falls in salaries were in site-based roles, with a general foreman earning 6% less in 2012 at an average of £26,727.
Hays said this was due to a drop in site activity, and an increase in the number of site managers overseeing subcontractors, rather than foremen.
Senior health and safety managers also saw a fall in their salaries, with the average salary dropping 3% to £46,818, reflecting a move to outsource the work or bring in consultants for each job.
Contracts managers saw their salaries fall by an average of 2% to £42,909.
To read more about the salary survey click here.