Crieff-based Gallagher Groundworks fined for safety failings after worker loses leg during construction of a wind farm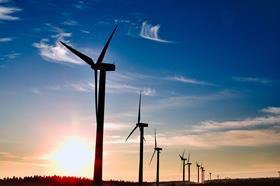 A Scottish groundworks firm had been fined £32,000 for safety failings after a 20 year-old worker had to have a leg amputated when it was crushed during the construction of a wind farm.
The Health and Safety Executive (HSE) said Gregor Steele, from Perthshire, suffered severe injuries when his left leg was crushed between a tractor pulling a heavy water bowser and the bucket of a loading shovel in September 2010.
Steele, who had been employed by Crieff-based Gallagher Groundworks since leaving school, was airlifted to hospital where he underwent a nine-hour operation in an attempt to save his leg.
However, despite a second operation, his leg was amputated above the knee.
An investigation into the incident by the HSE led to the prosecution of Gallagher Groundworks at Perth Sheriff Court.
The court was told that between 13 August and 3 September 2010 the company failed to make a suitable and sufficient risk assessment for the work being carried out and failed to ensure that the machinery being used was appropriate for the work, was properly maintained and that safety equipment was fully operative.
Gallagher Groundworks was fined £32,000.
Steele was unable to work for two years. He has since been fitted with a prosthetic limb and has returned to work for Gallaghers using an automatic tractor.
HSE Inspector Kerry Elliot said: "This was an entirely avoidable incident and the failures by Gallagher Groundworks led directly to this life-changing injury sustained by a young man, aged just 20 at the time of the incident.
"The equipment was not suitable in combination for the work it was being put to and furthermore was poorly maintained with the parking lock actually being disabled rather than repaired.
"Mr Steele has finally been able to return to work but he will endure the after effects of this incident for the rest of his life."