Steel giant reports loss after "most challenging period" in firm's history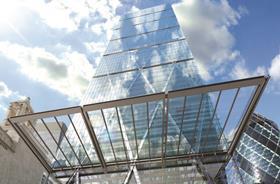 The loss at steel giant Severfield-Rowen has risen to £28.9m after the firm was hit by cost overruns on a number of problem contracts, including the high-profile Cheesegrater tower.
This week the firm reported revenue of £318.3m for the 15 months to 31 March 2013, and a pre-tax loss of £28.9m, after it changed its reporting date to correspond with its Indian joint venture.
The troubled contractor said the past year had been the "most challenging in the group's history", after it was hit by £20.1m of cost overruns on a number of problem contracts, including a £10m write-off on the 122 Leadenhall tower in London, known as the Cheesegrater.
The period saw a number of profit warnings and the departure of the firm's chief executive Tom Haughey, with a rights issue in February raising £44.8m.
In February, the firm reported a pre-tax loss of £19.4m for the year to 31 December 2012, compared with a pre-tax profit of £5.8m for the year to 31 December 2011, and reported revenue of £256.6m, down 4.2%.
John Dodds, executive chairman, described the period as the "most challenging in the group's history".
"Problems with the contract for 122 Leadenhall Street were the most significant of several issues which adversely impacted the results," he said.
The firm said its UK order book stood at £197m, with "a good mix of London commercial offices, industrial buildings, warehousing, waste to energy and transport projects".
The contractor also announced that Ian Cochrane, previously managing director of Fisher Engineering bought six years ago by Severfield, would take over as chief operating officer following the retirement of Peter Emerson.
Dodds also confirmed he would continue to head the company until a new chief executive is found to replace Haughey.
The firm also reported £800k in redundancy costs following the reorganisation of three of its operating businesses into a single company called Severfield-Watson Structures.
The firm said the reorganisation would lead to £4m in annualized cost savings.
The firm said a further review had since resulted in changes to the senior management structure, while it was reducing its factory capacity by 10% "to align with market conditions".
The firm also confirmed that a further reorganisation, announced last month, will result in a cull of 93 jobs.
"These changes are difficult for all concerned but are necessary to ensure that the Group is on the best and most efficient footing to deliver improved performance in the continuing difficult climate," the firm said.
The firm added it was now "putting a very difficult period behind it and is implementing a number of changes aimed at improving operational and financial performance within a reduced Group risk profile".
It said: "The market is challenging but our position within the market and our customer relationships both remain strong."