Steel firm says the market is "improving" and that a more pronounced pick-up in activity is expected later this year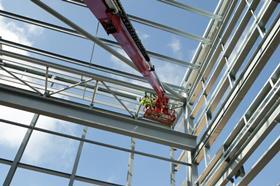 Structural steel firm Severfield's UK order book has grown to £171m as the firm sees "continuing signs of improvement" in the market.
In a statement to the City this morning, Severfield reported an order book of £171m, up from the £168m of orders that it reported having on 1 May 2014.
In its statement the firm said: "Management's view of the market is unchanged, with continuing signs of improvement, but it remains likely to be later in the financial year before there is any notable impact on the size or mix of the order book."
However, it also reported this morning that the order book for its India division had slipped slightly to £34m, down from £41m on 1 May.
Severfield said its Indian business was "showing the intended improvement in operational performance" with "cost savings and improvements in production output both being evident".
It added: "Overall, the group continues to be ideally positioned for recovery in the UK construction market with its good market position and strong balance sheet."