Founder Ron Sidell says clients are offering support after architect went into liquidation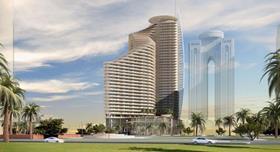 The founder of bust architect Sidell Gibson is exploring how its core team might continue to work together after the firm entered into liquidation earlier this month.
Ron Sidell, founder of the practice, said he is looking at options to bring the team of architects back together.
He said: "I am not giving up on the profession that I love. A number of key clients have expressed a desire to continue to work with me and the team, and significant interest from some organisations means that we are actively looking for a solution that will provide financial backing and allow the highly talented team of architects and designers that I have had the privilege of working with at Sidell Gibson to continue to work together.
"We are also exploring opportunities to safeguard Sidell Gibson's heritage, built up over 40 years and which includes such projects as Windsor Castle, One New Change alongside Jean Nouvel, Paddington Central, Snowhill in Birmingham and Reuters' in Geneva."
Accountants Baker Tilly Restructuring and Recovery were appointed to handle the liquidation of the firm earlier this month.
Sidell Gibson owed creditors £2.5m at the time of going into liquidation. The largest creditor to the firm was Lloyds Bank, which was owed £600,000.