Two-storey visitor centre had been due to open before British Grand Prix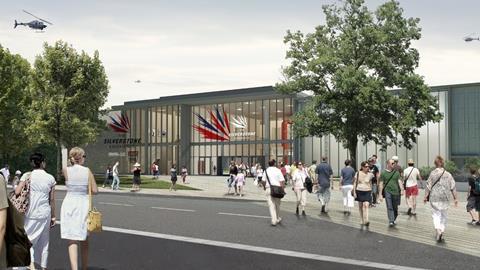 The client behind bust contractor Shaylor's most high-profile project have confirmed the firm's administration is likely to delay the opening of the Silverstone Experience Centre by at least two months.
In March 2018 Silverstone received a visit from Prince Harry, who met Shaylor boss Stephen Shaylor and Silverstone chief executive Sally Reynolds to learn about the project.
But the job, which involves construction of a two-storey visitor centre and the refurbishment of a Second World War aircraft hangar, and had been due to open to the public on 9 July, will now not open before September - after the 2019 British Grand Prix this summer.
In a statement on its website the Silverstone Experience said: "We are very disappointed to have to announce that Shaylor Group, the main building contractor for The Silverstone Experience, announced on 14 June that it had gone into administration.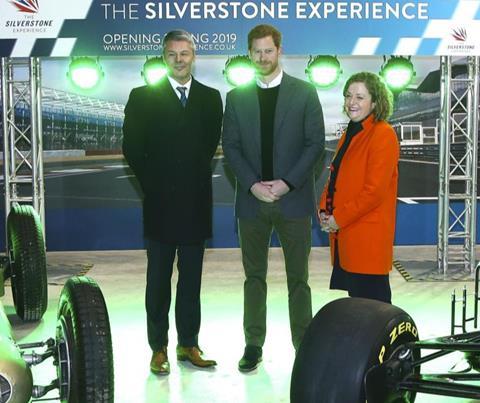 "The Silverstone Experience project will still go ahead but this development will inevitably cause some delay to the public opening date, previously planned for 9 July and the preview weekend planned for 6 and 7 July. Due to the complex logistical and legal challenges caused by Shaylor Group going into administration, it is unlikely that we will be able to open before 1 September."
The organisation said all those who had already booked tickets had been contacted directly and that a new opening date would be confirmed as soon as possible.
The Silverstone Experience Centre, which was drawn up by Cube Design and supported by a £9.1m grant from the Heritage Lottery Fund, is expected to attract over 500,000 visitors a year.
The facilities will accommodate the Silverstone motorsport exhibition alongside the British Racing Drivers' Club archive, educational facilities, cafe, atrium and reading room.
Shaylor Group went into administration on Monday, with approximately 200 employees made redundant.
Administrators from restructuring specialist FRP Advisory were appointed joint administrators after staff were told in an email the day before the firm would be going into administration.