Bloomburg HQ contractor confirms it is pulling out of the Energy from Waste market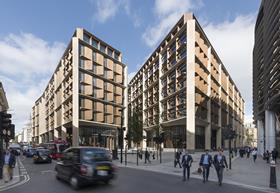 Sir Robert McAlpine has blamed three problem Energy from Waste for a £23m pre-tax loss in 2017.
The contractor, which this morning confirmed it would be pulling out of the EfW sector, said the trio of contracts were responsible for a £37.1m hit to its profits last year.
Sir Robert McAlpine said it had completed EfW jobs for client Hitachi Zosen Inova in Avonmouth and Buckinghamshire during the year but did not identify the remaining job.
It is believed to be its £100m Lynemouth biomass conversion project, where construction is complete and final commissioning is now expected to wrap in October.
Paul Hamer, who joined Sir Robert McAlpine as chief executive in July last year, said: "Over the course of 2017, Sir Robert McAlpine worked on three energy projects, all of which have incurred considerable losses.
"Two of these were [EfW] projects which were completed during the year; the final accounts have been agreed with the client and all claims settled. The last project is forecast to be completed by October 2018."
The problem jobs saw the firm's pre-tax profit fall by 278% in the 12 months to 31 October 2017 compared to 2016 when it recorded a profit of £12.9m.
It said that excluding the EfW jobs it had posted an underlying profit of £14m in 2017 while turnover increased 5% year-on-year to £891.9m.
Hamer said: "Whilst, our 2017 financial results are disappointing and directly attributable to our exposure to the waste to energy sector, I am encouraged that our reinvigorated focus on engineering and operational excellence is already having an impact on our business performance."
He said the firm's results for the first six months of 2018 were in line with its budget and its secured order book was stronger than it has been for the past decade.
Sir Robert McAlpine said significant progress on Wimbledon's No. 1 Court retractable roof, the start of work on Elizabeth Tower and the completion of Bloomburg's new London HQ (pictured) were significant milestone's for the firm in 2017.
The contractor's parent company, Newarthill, for the year ended 31 October 2017, recognised underlying profits of £17m and a loss after exceptional items of £20m.