Sir Robert McAlpine issues High Court defence adding nine major contractors as co-defendants along with a host of subsidiaries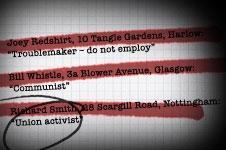 Sir Robert McAlpine has responded to the High Court compensation claim it is facing from alleged victims of blacklisting with a defence that adds 34 other construction industry defendants to the action, including nine major contractors.
The conspiracy claim being brought by construction workers represented by Guney, Clark and Ryan solicitors on behalf of the Blacklist Support Group is based upon evidence discovered when the Consulting Association (TCA) blacklist database was discovered following a raid by the Information Commissioners Office (ICO) in 2009.
Sir Robert McAlpine said it has now named nine major contractors as co-defendants, with the remaining names subsidiaries of those firms.
The major contractors named are:
Balfour Beatty
Bam
Carillion
Costain
Laing O'Rourke
Kier
Skanska
Vinci
Amec
All of these firms subscribed to TCA before it was closed down following the ICO raid.
Steve Acheson, spokesperson for the Blacklist Support Group and the claimant in whose name the group litigation was commenced, said: "The entire construction industry is now on trial in the High Court.
"Blacklisted workers have waited over four years just to get this far but we will not cease our fight until we fully expose the secret human rights conspiracy and achieve some kind of justice: even if that means a full public inquiry."
Sean Curran, partner at Guney, Clark and Ryan solicitors said: "Guney Clark and Ryan Solicitors have been singularly working on this case since 2009 in pursuit of those companies and individuals whose nefarious and clandestine actions caused such great harm and injury to our claimants and their families.
"We are very happy that the action is now progressing through the court system. Ultimately we look forward to the day we obtain redress on behalf of our clients and in doing so, ensuring they can move on with their careers and personal lives without this experience continuing to blight them."
In a statement Sir Robert McAlpine said: "Sir Robert McAlpine Ltd confirm that it has issued Part 20 Claims against nine construction groups in relation to its on-going defence of allegations of 'blacklisting' of workers in the industry.
"Sir Robert McAlpine believes that all of the companies that have been served these legal documents were participants in The Consulting Association and all will join Sir Robert McAlpine as co-defendants in the action brought by a small number of construction workers."