Firm names new managing director two years after admitting defeat in bid to sell its piling arm
Skanska has announced a major reorganisation of the leadership team at its Cementation piling and ground engineering arm - two years after it gave up on plans to sell the business.
In July 2019 the contractor confirmed that it had abandoned its plan to sell Cementation and admitted defeat after a 14-month search to find a buyer prepared to pay the asking price. The firm had been hoping to get more than £50m for a business that in the previous financial year had revenues of £62m and posted a pre-tax profit of £12.5m.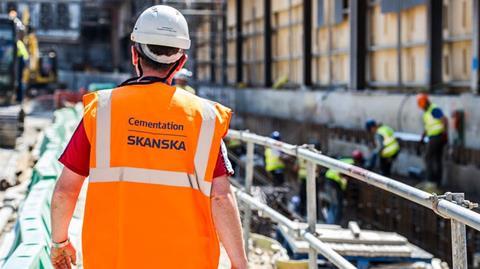 Now the firm has confirmed an overhaul of its leadership team, with Terry Muckian named as Cementation's managing director.
Muckian joined Skanska as director of water and operational delivery in July 2011 and has held a number of senior positions, most recently as managing director of its utilities business. He is a member of Skanska UK's senior management team and will take on his new role from 1 October.
He replaces Jamie Dunbar, who has led Cementation Skanska for the past two and a half years. Dunbar is not leaving the business, becoming business director responsible for Cementation Skanska's fabrication and specialist engineering services, as well as operations in Scotland.
Andy Entwistle, who is currently a commercial director, will become operations director for Cementation in London and the South-east, which includes the business' work for the Skanska Costain Strabag joint venture working on HS2.
Operations director Mark Boden takes responsibility for regional operations, excluding Scotland.