Group calls for urgent meeting with business secretary Kwasi Kwarteng as concerns grow over UKCA mark deadline
The construction of more than 150,000 homes could be delayed because progress in getting products tested under the new post-Brexit certification system has been too slow, the Construction Leadership Council (CLC) has warned.
In an open letter to business secretary Kwasi Kwarteng, CLC chair Andy Mitchell urged the minister to "rapidly meet" with the group to discuss how to resolve the matter.
The switch to the new UK Conformity Assessed (UKCA) mark on 1 January 2023 means that thousands of key construction products will need to be retested at costs of up to £50,000.
Under the existing CE mark, products could be certified as safe to put on the market at testing centres across Europe.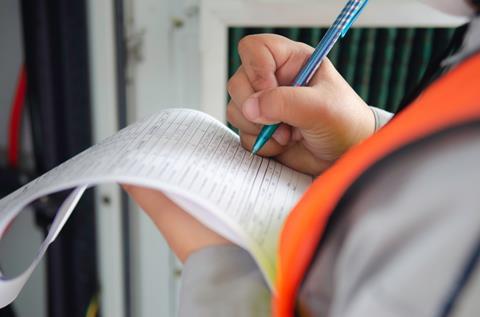 But under the new system these tests need to be carried out in the UK, which has limited or non-existent testing capacity for several products including glass, radiators and sealants.
It means that new centres would have to be established with new staff recruited and trained to carry out the tests, which can take over a year.
Mitchell said that an inability to certify radiators if products could not be tested in time could see new housing schemes grind to a halt, with "clearly damaging" consequences for the government's housebuilding ambitions.
The government has already agreed to delay the introduction of the UKCA mark by a year to 1 January 2023 after being told that the original deadline would wreak havoc with the construction industry.
The department for business called the new date the "final deadline" when it was announced in August and said that firms "must take action to ensure they are ready" to apply the new markings.
But Mitchell warned the significant expansion of UK testing capacity needed is "not happening quickly enough".
He added the situation was of "great concern" to the CLC and its industry partners and said the 12 month extension to the deadline is "not sufficient to prevent significant disruption".
The letter sets out a series of options for the government to consider, including finding faster ways to get new certification bodies up and running, allowing testing and certification in overseas centres and authorising the use of existing certifications on a temporary basis.
Industry groups including the CLC have previously predicted the deadline would need to be extended again because of the huge backlog of tests which need to be carried out.
A spokesperson for the Construction Products Association said in August that the group is "not in fact wholly convinced that one year will be enough to address all the challenges at hand".
Builders Merchant Federation chief executive John Newcomb also said the timescale was still too tight, warning that the extension was not a long-term solution and risks "kicking the can down the road".
And Costain chief executive Alex Vaughan said a further extension could be necessary, adding: "This needs to be done properly."