Three-year pipeline shows spending moving from education, housing and transport to waste projects
A £22bn forward pipeline of construction projects, published for the first time this week by the government, shows a major increase in projects for the Environment Department at the expense of the traditional big-spending departments.
Spending on construction through Defra will increase from £1.2bn in 2011-12 to £1.9bn in 2013-14, reflecting a huge influx of investment in waste disposal plants. Currently almost three quarters (72%) of government construction spending goes through just three big-spending departments - education, transport and communities - according to the construction pipeline document. However, the shift will see the proportion of the government's construction spending through Defra increase from 14% to almost a third (29%) and become the biggest spending department on construction.
Investment in the government's Waste Infrastructure Delivery Programme, administered by Defra, will almost double from £989m to £1.7bn over the period to cope with demand caused by the introduction of landfill taxes.
The document, detailing the coalition's construction pipeline for the first time, also indicates a shift in the way health construction projects will be delivered over the parliament, away from use of the Procure 21+ framework, towards PFI delivery.
The pipeline was unveiled by cabinet minister Francis Maude on Tuesday at the government's construction strategy launch.
Maude said the publication would increase transparency and help construction firms to forward-plan investment, but industry figures have called for more clarity. The publication, which includes all funded projects procured, in procurement or yet to be procured, pre-empts the official publication of the first quarterly pipeline of projects in the autumn.
Stephen Ratcliffe, director of the UK Contractors' Group, said: "We recognise it's a first attempt and that a lot of work needs to be done to add more detail to encourage contractors to invest, but we look forward to working with the government to do this".
Alasdair Reisner, CECA director of external affairs, said: "We welcome the early publication of the programme, recognising that the first official publication in the autumn will add detail".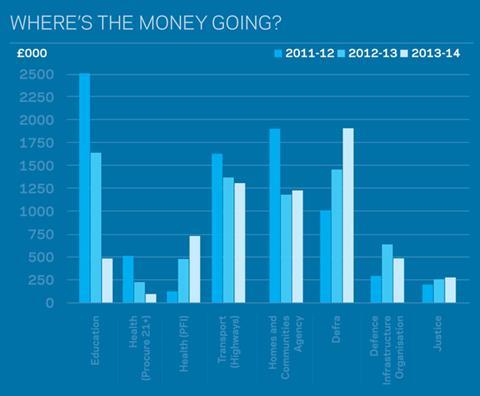 Who's on the board?
The government construction board chaired by Paul Morrell will include representatives of each government department and public client, it was announced this week. The efficiency and reform group steering committee will be chaired by Andrew Wolstenholme, incoming chief executive of Crossrail and the Infrastructure UK (IUK) steering group will be chaired by Peter Hansford, president of the Institute of Civil Engineers.
The task groups headed by:
Nick Pollard, Navigant
Tim Eaton, Highways Agency
Deborah Rowland, Government Property Unit
Mark Bew, URS, Scott Wilson
Simon Kirby, director investment projects, Network Rail
Prof Brian collins, chief scientific adviser, DfT/BIS
Stephen Fox, chief executive,
Bam Nuttall