Round-up of industry reaction to announcements including £20bn for carbon capture and storage and £600m for regneeration and levelling up schemes
The industry has broadly welcomed yesterday's budget, which included new funding for regeneration and energy projects although there was some criticism over the lack of progress on retrofit.
Chancellor Jeremy Hunt's announcements included £20bn in funding for carbon capture and storage (CCUS) schemes, the launch of Great British Nuclear and £960m in funding for 12 new investment zones.
He also committed a total of £600m for regeneration and levelling up projects, 'trailblazer' devolution deals with Greater Manchester and West Midlands Combined Authorities and added five construction roles to the shortage occupation list to make it easier for firms to attract labour from abroad.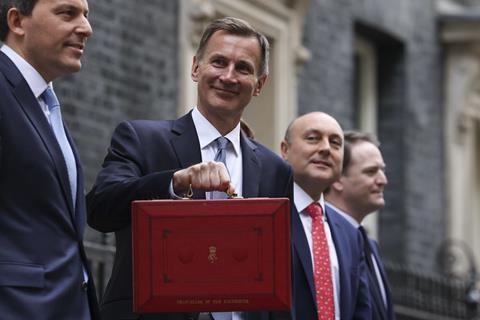 The most significant announcement for the wider economy was an expansion of free childcare to children aged under five, a move which the Chartered Institute of Building (CIOB) said would help get more women to work in construction.
"It's important the construction sector now seizes this opportunity and works together with Government to promote the vast range of roles available and the value women can bring to what is typically a male dominated working environment," Eddie Tuttle, Director of policy, external affairs and research at the CIOB said.
Pick Everard people and culture director Elizabeth Hardwick-Smith said the change would unlock work for those who had felt pressured to reduce their hours to care for their young families.
"Operating within a sector that struggles to attract and retain as many women as men, we welcome the announcement of extended childcare support for one-to-two-year-olds.
"Being unable to access or afford childcare is seen as a significant barrier to work, especially for women," she said.
Hunt's commitment to CCUS funding was broadly welcomed as a vote of confidence in an emerging sector which is seen as a key element in the government's net zero ambitions.
National Infrastructure Commission chair John Armitt said the programme "should help crowd in private investment and build a pipeline of CCUS projects that will play an important role in decarbonising the economy".
Atkins chief UK and Europe chief executive Richard Robinson also welcomed the move, although it was criticised by Timber Developments UK David Hopkins, who asked whether the government had "missed an opportunity to invest in an already existing technology in the form of 'trees'".
Robinson praised the budget's launch of Great British Nuclear (GBN), a new body which aims to support the development of new nuclear plants including small modular reactors.
But he added that the government must now focus on enabling the delivery of schemes by streamlining the planning process, and providing a "far clearer long-term view of investment priorities which will give businesses the direction needed to recruit, upskill and innovate with greater confidence".
WSP UK chief strategy officer Paul Tremble said the potential of both nuclear and CCUS to "diversify our energy mix, create jobs and drive growth cannot be understated and it's imperative this support is consistent and long-term".
The Civil Engineering Contractors Association also lended its backing to the GBN launch, but said it "must herald a new era in which the ambition of delivering new nuclear generation translates from words to action".
Hunt's reimagining of Liz Truss' investment zones plan, which includes requirements to support carbon emissions reductions, was received warmly across all industry industry quarters.
The UK Green Building Council's deputy chief executive Simon McWhirter said it was encouraging that the zones must support the UK's path to net zero, but added that they must meet robust environmental standards.
The RICS also welcomed the plan, while McBains managing director Clive Docwra said it would hopefully trigger investment in infrastructure and house building in regions affected by the delay to HS2.
Meanwhile, the devolution deals were praised by Scape chief executive Mark Robinson, who said the move was a "significant takeaway for the construction industry".
"Having greater say over local transport, skills and housing will ultimately lead to more focused spending, which can only benefit investment in local communities – be that infrastructure-led or otherwise. We hope this sets a precedent to be swiftly followed in future Budgets," he said.
The budget's harshest criticisms were levelled at the lack of funding for retrofits and energy efficiency improvements, frequently seen as a weak point in the government's progress towards net zero.
Cara Jenkinson, cities manager at climate solutions charity Ashden said the budget was a "terrible wasted opportunity," adding that the £20bn earmarked for CCUS would be better spent on upgrading energy efficiency in buildings.
"The chancellor's thinking needs a rapid upgrade - just like 19 million homes in the UK that need retrofitting. By laying out measures to boost retrofit demand and creating a generation of skilled retrofit workers, he could have not only generated savings for struggling households, but also given businesses the confidence needed to generate over 200,000 new energy efficiency jobs," she said.
Federation of Master Builders chief executive Brian Berry added it was disappointing that retrofit made no appearance in the budget. "It is one of the most pressing issues and could result in a huge boost in jobs and economic activity at the local level," he said.
"We had seen small measures rolled out in the last Budget and had hoped the Government would embrace retrofit as a major long-term infrastructure project but this opportunity has been lost."