Here is all Building's Budget coverage in one place
Budget 2023: key measures at-a-glance A brief summary of the key measures for the construction sector.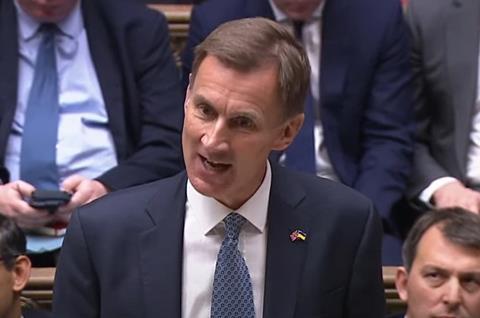 Bricklayers added to list of trades with shortages overseas labour will now be allowed to plug Migrant worker rules loosened as part of package to fill skills gap
Hunt to spend £20bn on carbon capture schemes across UK Chancellor also announces launch of first competition to design small modular reactors
Hunt's Budget shifted emphasis from recovery to re-set Many of the chancellor's announcements will only bear fruit in the longer term. Whether that is in time to save the Tories at the next general election remains to be seen, writes Simon Rawlinson
Spring Budget broadly welcomed but criticised for lack of retrofit progress Round-up of industry reaction to announcements including £20bn for carbon capture and storage and £600m for regneeration and levelling up schemes
Missed chances and little to excite in Hunt's first Budget The statement revealed a chancellor with few short-term solutions for whom survival to the next general election will be an achievement in itself, writes Richard Steer of Gleeds
Chancellor announces £760m for regeneration projects West Midlands and Greater Manchester Combined authorities get control over affordable housing funding
Investment Zone proposals must have 'ambitious' planning acceleration offer Chancellor says proposal has potential to create '12 Canary Wharfs'
Government to support developers deliver 'nutrient neutral' sites The government has pledged to fund nutrient mitigation schemes in a bid to end a logjam that has held up tens of thousands of homes.