An extra 559 seats will be added to the stadium's total capacity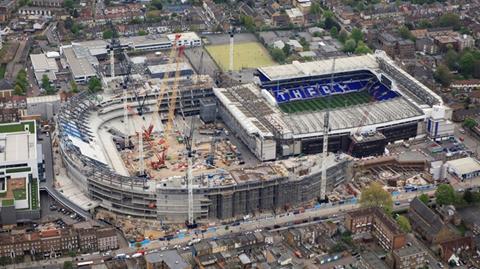 Tottenham Hotspur has received approval from Haringey council to increase the capacity of its new £800m stadium.
A new seating layout design will see the under construction stadium provide an extra 559 to the original plan for 61,000 seats.
The majority of the extra seats will be located in the single-tier south stand which will now have a capacity of 17,500.
The approval comes after it was revealed earlier this year that the cost of Spur's new Populous-designed stadium had shot up by £400m partly due inflation caused by the vote for Brexit.
The source of the reports comes from an email exchange between a Spurs fan and a club executive, posted on an online forum, although the higher cost estimate has not yet been officially confirmed by the club.
The team building the stadium includes main contractor Mace, which has been working at the site since spring 2015 with Arcadis as the cost consultant, steelwork contractor Severfield, concrete firm Morrisroe and pre-cast firm, Antrim-based Macrete, while Buckingham Group will erect the new roof and German firm Schlaich Bergermann has been hired to carry out the roof engineering.
Demoltition of the main ground is expected to commence once Spurs completes its final game of the season against Manchester United this Sunday.