Rising inflation and Ukraine war blamed for practices' ailing optimisim in capital
Slowing economic growth caused by rising inflation and the impact of Russia's invasion of Ukraine has dealt a blow to the confidence of practices in London, according to the latest RIBA Future Trends survey.
Studios in the capital saw their expectations for future workloads drop by 18 points to +22 in March, just a month after reporting the highest confidence levels since the onset of the pandemic.
Nationally, the workload index dropped by four points last month to a balance figure of +19, the first fall since November.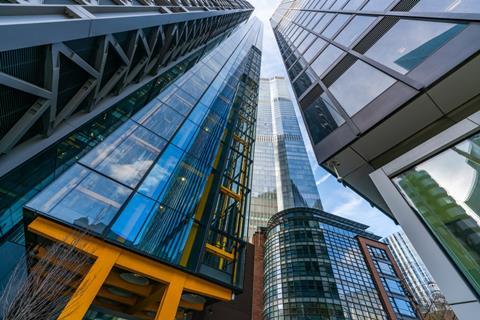 The UK economy grew by 0.1% in February according to the latest official figures, following 0.8% growth in January. Earlier this week, the IMF slashed its growth forecasts for the UK this year from 4.7% to 3.7% because of inflation eating into disposable income.
RIBA head of economic research and analysis Adrian Malleson said: "March saw a slight fall in optimism, aligning with a national economic picture of slowing growth, rapidly rising inflation and the backdrop of an ongoing war in Ukraine.
> Also read: Construction must respond quickly to the fast growing number of vacancies
> Last month's RIBA Future Trends findings
"Commentary received shows that cost pressures on architects, clients, contractors, and product manufacturers show no signs of easing.
"Rising energy and commodity prices, along with global supply chain disruption, have led to the price of building materials rising by around 20% over the last year."
Malleson also suggested that some clients, especially those building smaller residential schemes, might have started to pull jobs amid a growing cost of living crisis.
"Reports of stalled or abandoned projects arise mostly from smaller practices, which suggests they are likely domestic. Are clients thinking twice before embarking on home renovations amid a growing cost of living crisis? We can expect this to be reflected in surveys over the coming months," Malleson said.
Despite last month's confidence dip, expectations of future workloads were still the second highest since last September with 30% of practices in March expecting workloads to increase, 59% expecting workloads to stay the same and 11% anticipating a decrease.
But all construction sectors have seen confidence take a hit, with private housing, still the most positive, seeing February's +23 balance figure drop by six points to +17 in March.
The commercial sector also fell by six points, to +4, its lowest level for over a year, while the community sector slipped back into negative territory with a score of -2 and the public sector's one point rise in February has stayed level with the same score returned in March.
While London saw the sharpest fall in confidence of all regions, workload expectations also fell by 13 points in the North of England to +18.
Other regions were feeling more optimistic, with Wales and the West posting a two point rise to +24 and the South of England seeing confidence creep up by one point to +15.
Glimmers of hope were also reported in the Midlands and East Anglia, the least optimistic region over the past few months, where confidence was up by two points last month to +5.
Overall, workloads are up by 4% compared to this time last year and permanent staff levels have increased by 2%.