Team building 25-acre city-centre innovation district officially announced
Stanhope has been confirmed as the development manager for the £1.5bn ID Manchester mega-project with architects expected to be appointed later this year.
The University of Manchester officially announced yesterday that it will form a joint venture with Bruntwood SciTech, itself a partnership between Bruntwood and Legal & General, to masterplan the 25-acre city-centre innovation district next to Piccadilly Station.
Stanhope is the team's development manager.
The announcement comes after a protracted tender process which was due to announce a winner last autumn but was delayed by the pandemic.
Diana Hampson, University of Manchester director of estates and facilities, said the project could now progress "sooner than you might have expected".
"The team assembled by Bruntwood SciTech is very strong. They're ready to hit the ground running and so are we."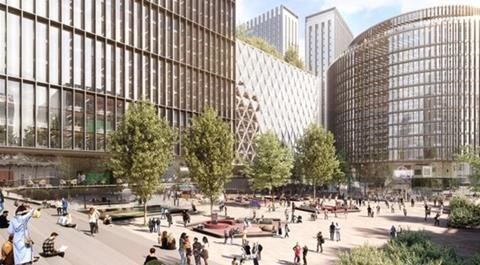 Allies and Morrison has already worked up concept images for the scheme, which will include more than 4 million sq ft of mixed use space for research and development, tech companies and residential developments.
Asked why there was so much confidence in Manchester to scale its innovation sector so significantly, Chris Oglesby, Bruntwood chief executive, said that the firm sees parallels between the city and the growth of innovation schemes in Boston in the US in recent years.
He said: "People in Boston talk about the relationship that Manchester has with London similar to the relationship that it has with New York, that it sees Manchester as the innovation powerhouse and London as the financial powerhouse.
"So we see particularly the Manchester innovation economy will continue to grow as we've seen with Boston in the US."
He said the next step in the project was to legally incorporate the joint venture between the University of Manchester and Bruntwood SciTech, after which architects would be appointed to draw up a formal masterplan.
The joint venture will also be responsible for piloting the scheme through planning, carrying out all infrastructure work and securing tenants over the development period, which is expected last 15 years.
Earlier this year Bruntwood SciTech bought the Melbourn Science Park on the outskirts of Cambridge while Bruntwood is behind the redevelopment of the former BBC building on the city's Oxford Road into a digital and tech hub called Circle Square.
The Stanhope team is understood to have beaten the remaining bidder, a pairing of Peel, which has previously concentrated on neighbouring Salford with the MediaCity development as well as the Liverpool Waters scheme, and Manchester firm Urban Splash for the job.
Other firms whose bids fell earlier on in the race included Morgan Sindall-owned Muse, Henry Boot, Singapore-based investor Mapletree and Beijing Construction Engineering Group, the Chinese developer and builder behind the £1bn Airport City scheme to overhaul Manchester Airport.