City council also confirms Farrans and Victor Buyck joint venture will build the Wear crossing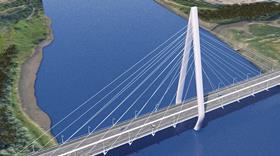 Sunderland City Council has given planning approval to build a £117.6m road bridge over the River Wear.
The crossing will be built by a joint venture by Farrans and Victor Buyck, and has been designed by consultants Buro Happold and Roughan & O'Donovan.
Preliminary work has already started and the project is set to be completed by spring 2018.
It is to be a three span cable-stayed bridge with an A-frame pylon rising to 115m (379ft), crossing the River Wear between Castletown and Pallion.
Sunderland city council will put just over £35m towards the project, with the government funding the remaining £82.5m as part of the Sunderland and South Tyneside City Deal. The budget covers all design, construction, management and land assembly costs.
Councillor Paul Watson, leader of Sunderland City Council, said the new bridge would be "one of the region's biggest engineering projects", adding that the investment will create new jobs and boost economic growth.
He said: "By improving links between the A19, the city centre and the Port of Sunderland, a new bridge has always been a key part of Sunderland's on-going regeneration.
"This announcement is great news for Sunderland and the wider region. There has been talk for a long, long time that Sunderland has needed a major new road crossing over the River Wear and it's an issue that has not gone away."
Earlier plans for a bridge over the River Wear, which would've been the tallest bridge in Britain standing at 590ft (180m), were scrapped in 2013 after costs spiralled out of control.