Paul Nash says ethics will be a central theme of his year-long tenure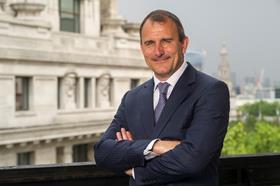 Turner & Townsend director Paul Nash has become the 113th president of the Chartered Institute of Building.
Delivering his inaugural address to politicians and industry leaders at a CIOB event in Hong Kong, Nash said highlighting the importance of ethics in construction would be a central theme for his year-long tenure.
Nash (pictured) said: "We are all responsible for the reputation of this industry and for the wellbeing of the people who work within it. No matter what country we work in.
"Ethics defines what it means to be a professional. Behaving ethically entails tough decisions. And we have a responsibility to help our members make those right decisions."
Over the next 12 months the CIOB is set to release a new, simplified Code of Conduct to describe clearly what the public and the industry should expect of a CIOB member. New learning modules on ethics and governance will also be launched.
Nash welcomed the CIOB's involvement with the International Ethics Standards Coalition, made up of more than 60 organisations, which will develop and implement the first set of globally recognised ethics standards for property and related professional services.