Chief executive Vince Clancy says the move is already helping to power firm's global expansion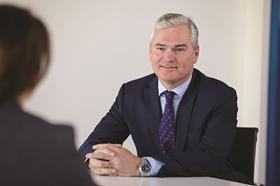 The number of director owners of UK consultant Turner & Townsend has expanded to 78 after its conversion back to a partnership last autumn.
Turner & Townsend (T&T) has shared equity between the partners since its conversion from a PLC to a limited liability partnership last October.
Building revealed last July T&T had dropped long-held plans to float on the London Stock Exchange in favour of a surprise return to becoming a partnership.
Speaking to Building, T&T chief executive Vince Clancy said the move was already helping to power the firm's global expansion and had given it "a competitive advantage" when attracting talent in a hot market.
Clancy said: "The reason we moved the ownership model is that it was around our strategic intent which is to grow an independent global business."
Last week T&T received a further boost after securing an £80m finance package from three banks to fuel further expansion.
The five-year revolving credit facility was agreed with Lloyds, HSBC and RBS.
T&T has begun 2016 with a number of new office openings, including a first office in Saudi Arabia and a second East Africa office based in Nairobi, Kenya, serving local markets including Ethiopia.
The firm won a project management role on construction of a major £1.1bn, 550km fuel pipeline between Ethiopia and the port of Djibouti last month for investment company Black Rhino.
The reason we moved the ownership model was to grow an independent global business

Vince Clancy, T&T
Back in the UK, the consultant is moving its headquarters from its long-time base on the Strand in London to the Jean Nouvel-designed One New Change in the City next month.
Clancy revealed the company is bidding for Scape's £350m consultant framework - one of several major consultancy frameworks currently being procured - which is due to go out to tender at the end of March.
Commenting on the government's repeatedly delayed procurement of its £2.9bn project management and design framework via the Crown Commercial Service (CCS), Clancy said it had been an "extraordinarily long process and the quicker it gets to fruition the better". But he said he would rather the CCS get the procurement right than rush it.
T&T dramatically challenged the failed procurement of an earlier iteration of the framework procured by UK SBS in the High Court in 2014, before the process was abandoned and relaunched by the CCS.
Clancy said: "We were disappointed last time because we thought the process was flawed. We were, I think, justified in that in the sense that they did put aside the process."
T&T is closing out its current financial year to April in "good form", Clancy said, and is confident the firm will achieve further growth.
But volatility in the world markets is causing concern and he admits the firm has had a "tough year" in Asia and in particular China where project activity has reduced significantly.
The UK market is still strong, Clancy added, but he is concerned about the eventual influence of the other markets and the impact of commodity prices.
In terms of sectors, infrastructure is a particularly busy one for T&T and it is "rapidly growing" into sub-sectors such as power and transport Clancy said.