Developer Henry Boot signs unconditional development agreement with city council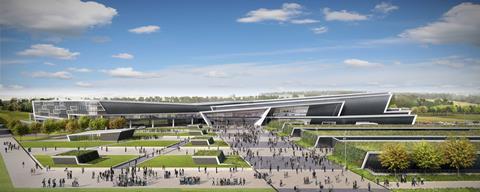 The city of Aberdeen has committed to a £333m exhibition centre, after signing an unconditional development agreement with developer Henry Boot.
It will be powered by an innovative energy centre and anaerobic digestion plant which will provide sustainable electricity, heat and cooling for the complex.
Henry Boot has drafted in local builder Robertson Construction as main contractor, which has already commenced work on site. Construction is expected to complete in the first half of 2019.
The 1.1 million sq ft complex near Aberdeen's international airport won planning at the end of 2015. It will incorporate a 12,500-capacity flexible arena space and three hotels. Turner & Townsend is programme manager.
Henry Boot chairman Jamie Boot said he was pleased to see the long-planned scheme move forward after the Brexit vote: "It is very pleasing to see the larger commercial development schemes we have been preparing for some time now finally on site.
"We remain mindful of the challenges facing our industry after the result of the EU Referendum, taking into consideration this current market backdrop, we maintain a cautious outlook and as such the board's expectations remain unchanged."
Henry Boot has also secured planning permission for a further 400,000 sq ft of business park space on land next to the exhibition centre, which will be serviced as part of the above scheme, and developed jointly with Aberdeen City Council.