Turner & Townsend are to develop a cost model for high speed rail link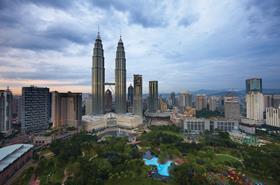 Turner & Townsend has been appointed to support Malaysia's Singapore to Kuala Lumpur high speed rail project.
The programme management and construction consultant will provide a capital and operational cost model for the project.
The proposed rail link will reduce journeys across the 350km distance between the two cities to one and a half hours.
Duncan Stone, regional managing director at T&T said: "The High Speed Rail link will provide efficient transport for the people of Singapore and Malaysia, significantly contributing to the economic growth of both countries."
The firm has previously worked on Crossrail, Qatar Rail and the Northwest Rail Link in Australia.