Firm says majority of figure relates to a scheme in Scotland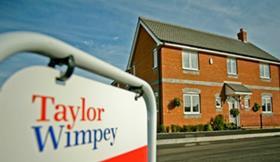 Taylor Wimpey has said it is spending £30m removing aluminium composite cladding from a number of its sites following last year's Grenfell tower fire.
The cladding was blamed for helping the fire at the west London tower block spread last June which claimed 72 lives.
In its interim results announced this morning, the country's second biggest housebuilder said the majority of the money being spent was at a site in Scotland.
It said: "In light of the Grenfell tragedy in June 2017, we completed a review to identify all legacy and current buildings with Aluminium Composite Material (ACM) cladding and worked with building owners, management companies and the Fire Service to implement government advice on interim mitigation measures, where applicable.
"Whilst each example is slightly different, and this is an exceptionally complex issue, we have in a number of cases agreed to support customers both financially and practically with removal and replacement plans, even though the buildings concerned met the requirements of building regulations at the time construction was formally approved. We have taken this decision for buildings constructed recently because we believe that it is morally right, not because it is legally required."
The firm added: "We have therefore taken an exceptional charge of £30m before tax to replace certain ACM cladding, which is also consistent with independent fire expert advice. The majority of this provision relates to one development in Scotland, which was built under prior building regulations."
Taylor Wimpey said it expects to make up for time lost on sites caused by the freezing winter weather in the second half of the year.
It said the number of homes it built in the first six months of the year was down by 151 to just under 6,500, adding that the 3% fall in volumes had affected its revenue in the six months to 1 July.
The firm added that it welcomed June's draft analysis of Sir Oliver Letwin's independent review of how to build more homes and its "clear conclusion that major homebuilders do not engage in speculative landbanking".
Costs to build homes increased by up to 4% to close to £144,000 with the firm expecting overall build costs throughout 2018 to be up by a similar number.
Revenue during the period was flat at £1.7bn with operating margins edging down from 20.3% in the first half of last year to 20%. Pre-tax profit was up 47% to £301m. Last year it was forced to set aside £130m to help homebuyers affected by the leasehold scandal.
Taylor Wimpey said it plans to hand its shareholders a special dividend of £350m next year which, along with ordinary dividends, will take total dividends paid out to shareholders in 2019 to around £600m.