Supermarket giant reacts to supply chain concerns following forward funding comments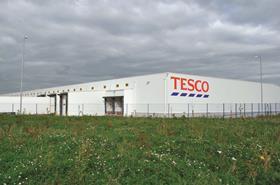 Tesco has moved to allay concerns over suggestions that it would favour contractors who were prepared to forward fund its construction work.
The move comes after Tesco's chief architect Martin Young said one way for contractors to win work with the supermarket giant would be to offer to finance projects.
Speaking to Building last week, Young said: "For incumbents on existing frameworks, one way to secure work is to forward fund construction work.
"Yes, it means we rely on funding from a contractor, but it means we can start six months earlier and so will give you that work in advance."
However, Young, in a letter to Building this week, has now moved to reiterate that forward funding from contractors was only "one option" for contractors seeking work from the retailer.
He said that he had not wanted to cause "concern" among Tesco's supplier network.
"While Tesco is open to forward funding proposals from contractors, I'd like to reiterate that this is simply one option that, in theory, could add another string to a contractor's bow in these ultra-competitive times. We welcome new ideas from contractors and this is one example."
A Tesco spokesperson confirmed the firm had received "a number of calls from contractors in relation to the forward funding point" and Young's letter was aimed at clarifying the situation.
Andy Taylor, preconstruction director at contractor ISG's retail arm, said in reality he didn't expect Tesco to ask contractors to fund developments for much of its work because it was now focusing on smaller stores, which are easier to finance.
Paul Hodgkinson, chair of contractor Simons Group, said: "The issue for Tesco is whether or not they will get their contractors to take the [financial] risk to have the certainty [of work]."
"It's very dangerous to take development risks for contracting margins," he said, before adding that such an arrangement was possible but would require contractors to go through project plans and costs in immense detail.