Contract awards for Euston and Old Oak stations had been due last month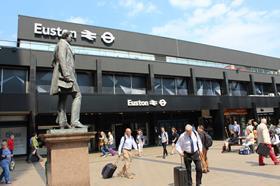 Transport for London has revealed that it expects main works contractors to be appointed to build HS2's two London train stations this week.
In papers published ahead of this Wednesday's meeting of its board, TfL, which is not a client on the £56bn railway, said it believed the successful bidders would be announced by the end of January.
It added: "The main works contractors for delivery of Euston and Old Oak stations are due to be appointed by January.
"We will also work closely with them to mitigate the impact on our customers while construction is underway."
The long-awaited appointment of contractors to build the London HS2 stations was due to happen before the end of 2018 but HS2 Ltd confirmed the deadline had been pushed back to the first quarter of this year, meaning it could be delayed by up to three months.
At the time a HS2 spokesperson said: "We are working closely with government to complete the contract award process for both station construction partners and we will announce the winners early this year."
At Euston, the early works contractor, which is a joint venture between Costain and Skanska, is on site with demolition firm McGee to carry out works including knocking down One Euston Square and Grant Thornton House which stand above the main entrance to the station.
The buildings were designed by Tower 42 architect Richard Seifert in the mid-1970s and are expected to take 10 months to pull down.