Terry Morgan tells peers scheme should ditch Euston as finishing point to save money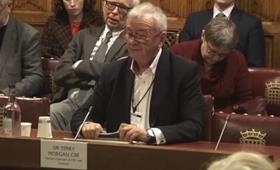 The former chair of HS2 has admitted that "nobody knows" what the final price tag of the proposed new high-speed rail line will be.
Sir Terry Morgan (pictured), who was forced to resign as chair of both Crossrail and HS2 in December, told a House of Lords select committee earlier this week that "nobody knows the number" of what the final cost of HS2 will be.
Morgan, who was chair of HS2 for four months, told peers on the economic affairs select committe that while "everybody has their own guesstimate" as to what the scheme would cost, it was impossible to know whether it would be able to be completed for its £56bn budget.
He also suggested the railway should initially terminate in west London at Old Oak Common rather than at the current proposal of Euston in order to save some cash.
Morgan, who was replaced by former Atkins chair Allan Cook at HS2 last month, said it would be better to "disconnect Euston away from phase one".
He added: "Euston is very, very complicated in terms of impact and disruption."
While demolition and enabling work has begun at HS2's London sites, the award of the main construction contracts at both Euston and Old Oak Common, which was expected to happen before the end of last year, has been pushed back.
A spokesperson for HS2 said it now expected to be appoint winners on these packages by the spring.
Morgan's comments will have done little to quiet the increasing calls for the project to be canned or for cost cutting measures to be implemented, as concerns about the overall cost of the project continue to grow.
The project was originally set to cost £32.7bn but has already gone up by over 70%.
Earlier this month, it emerged HS2 chief executive Mark Thurston suggested a trio of measures to cut costs and save time on the project despite insisting his corporation is working to the original cost and scope.
Thurston said trains could come less frequently, ballast track could be used instead of the proposed slab track and, as Building first reported in December, that the max train speeds could be reduced by 50km/h.