Exclusive: Big name firms shortlisted to for job to fit-out new home of Rupert Murdoch's News UK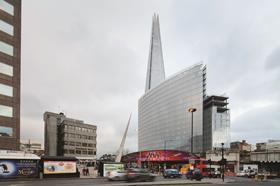 Three contractors are battling it out for the prestigious £50m job to fit out the "Baby Shard" at London Bridge Quarter for Rupert Murdoch's News UK.
Building understands ISG, Mace-subsidiary Como and Morgan Sindall-subsidiary Overbury have been shortlisted, with an appointment expected imminently.
The job is understood to be worth £40m-£50m.
News UK confirmed in July it intends to occupy the whole of the 428,000ft2, 17-storey The Place building (pictured). Like the Shard, it was designed by Renzo Piano, developed by Sellar, and constructed by Mace.
News UK is moving all its London-based subsidiaries into one building for the first time, including newspapers The Times, The Sun and The Sunday Times, news agency Dow Jones and book publisher HarperCollins.
News UK is the UK subsidiary of Rupert Murdoch's News Corporation.
A source at one of the bidding firms said there was no clear favourite for the job at this stage.
He said: "It's good to be in the race, but with these types of job you just never know until the last day who's going to get it. You can think you're out of the running then find out that you've got it when the decision comes through."
Another source close to the project said the fit-out programme should complete in late 2014.
The move will sever Murdoch's ties with Wapping, where his newspapers have been based since 1986. News UK's newspapers are currently based in Wapping's Thomas More Square, after they moved three years ago from long-standing former home Fortress Wapping, which was sold to Berkeley last year and will be redeveloped into 1,800 homes.
Overbury and Como referred enquiries to Sellar. Sellar and News UK declined to comment. ISG was unavailable for comment.