The council names preferred bidder for £480m city centre scheme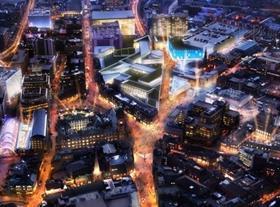 Sheffield has ended its three-year search for a development partner to take forward its long-delayed £480m city centre retail quarter, after picking Queensberry Real Estate as preferred bidder.
Queensberry overcame competition from Aspire Development for the role. A bid by Lendlease was shortlisted but the firm decided to withdraw from the process earlier this year.
The announcement follows the news that HSBC is considering the area as its preferred location for its new Sheffield base.
The retail quarter scheme was shelved in 2008 due to the financial crisis and then the council's original development partner Hammerson exited in summer 2013, kicking off a protracted search for a replacement.
The council shortlisted the three developers last September for the 900,000ft2 scheme, having submitted an outline planning application in August.
The plans will see the area between Barkers Pool, Pinstone Street and Charter Square transformed with new shops, offices, restaurants and flats.
The wider project team includes Turner & Townsend as programme, project, cost and procurement manager on the project, while Leonard Design Architects is the architect.
Councillor Leigh Bramall, deputy leader of Sheffield City Council and cabinet member for business and economy, said: "This is a key milestone and a significant step forward in the delivery of the scheme, which will provide a transformational development in the heart of our city centre."
"Queensberry not only demonstrate this shared ambition, but they have a clear aspiration to further raise the bar for the scheme. They bring an impressive track record of delivering thoughtful and successful schemes that respond to the rapidly changing retail environment."
Queensberry chief executive Paul Sargent said: "My team has been focused for the last 18 months on winning this major instruction. It is a dream come true. A scheme that meets the scale of our ambition and challenges our creative experiences to date.
"We will work seamlessly with Sheffield City Council to deliver the long awaited regeneration of the city centre. Our joint plans will be cutting-edge and inspirational, placing the city at the forefront of the next revolution in urban place making."