Firm says underlying 2017 profit will be up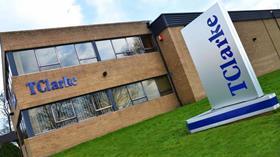 Electrical contractor T Clarke has said that revenue for the year will be north of £300m after a bumper 2017 buoyed by increased national spending on technology and infrastructure.
The firm posted income of £279m last year but group chief executive Mark Lawrence said turnover would be up again with the firm, which traditionally operates in and around London, booking £190m of revenue for next year and a further £100m secured in 2019.
T Clarke said its underlying pre-tax profit would be around £6.5m, up from the £6.2m it posted in 2016.
Lawrence said it had won an electrical package at the One Nine Elms twin towers scheme being built by Multiplex in the shadow of the new US embassy and had landed M&E work on the International Quarter development being built by Lendlease in Stratford.
Further afield, it has won a place on a frameworks scheme for Manchester Airport Group at the operator's East Midlands, Manchester and Stansted airports while it is also expected to extend its work for BAE Systems by another three years at two of the aerospace firm's sites near Preston.