Respected economic forecaster dies after battle against cancer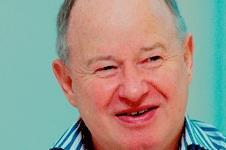 Tributes have been paid to Aecom director and regular Building contributor Peter Fordham who has died after a battle against cancer.
Fordham was Aecom's leading economic forecaster, working at Davis Langdon and then Aecom for 27 years before his death late last week.
In an email to staff Aecom strategic projects director Simon Johnson described Fordham, who wrote economics pieces for Building for over 15 years, as a "jewel in the Davis Langdon thought leadership crown".
Johnson added that he had lost a friend and the perfect working companion in Fordham. "For all of us in programme, cost and consultancy, he leaves a void in our knowledge base which will be difficult to fill," he said.
Fordham recently won a European fellowship award within Aecom, with the citation describing him as a "valued and respected forecaster, who through analytical skills is able to support a reasoned prediction, or alternatively demolish a punt, or misinformed opinionated claim, always doing so with style and assurance".
Fordham wrote market forecasts, tender price updates and cost models for Building regularly before his recent illness
EC Harris partner Simon Rawlinson, who worked with Fordham while at Davis Langdon, said: "I had the pleasure of working with Peter for 15 years whilst at Davis Langdon. As a specialist construction forecaster, his knowledge, precision and insight was second to none. Peter set the benchmark for insight, was a very supportive colleague and a really great person to work with.
"The construction research community has lost a great talent and a unique character, and I for one will really miss him."
Building's technical editor Thomas Lane said: "Peter was one of Building's most valued contributors and will be sorely missed."
Fordham is survived by his wife Sue.