Another 250 homes will be built at the development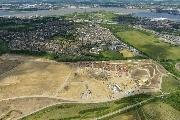 Planners have approved a trio of schemes at Ebbsfleet Garden City in Kent.
Countryside has been granted permission for a further 126 homes at its Springfield Park project, where the firm has already built 300 of the planned 800 new homes.
At the Castle Hill site, social housing provider Clarion has been given permission for a further 37 houses and 31 apartments, all of which will be shared ownership.
Newcrest has also secured planning approval for a new neighbourhood centre at Castle Hill, which will include a new supermarket, space for retail, small businesses and a café and 56 homes.
Paul Spooner, interim chief executive of Ebbsfleet Development Corporation, said: "It's good to see another 250 homes being approved after a phenomenal 12 months for Ebbsfleet Garden City which saw more than 600 homes under construction.
"Ebbsfleet Garden City provides a wide range of housing, from affordable with shared ownership, helping to give people a good start on the property ladder, to quality family homes, all on London's doorstep but at a fraction of its price."
The new garden city at Ebbsfleet in Kent is to provide up to 15,000 new homes built along with 45,000 sq m of commercial space over a 15 year period.
Infrastructure for the scheme is being funded via £275m from the government granted during George Osborne's tenure as chancellor.