Industry leaders fear victory for property mogul could destabilise the world economy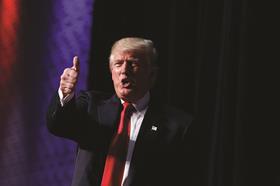 UK construction leaders have voiced fears a Donald Trump presidency in the US could destabilise the world economy and have a negative impact this side of the Atlantic.
On 8 November Americans will head to the polls to decide whether Trump (pictured) or Hillary Clinton becomes the 45th president of the US. Both have been mired in various scandals in the run-up, but it is billionaire property mogul Trump who is causing the most concern.
"Nobody in senior business circles wants Trump," Ann Bentley, global chair of UK-based consultant Rider Levett Bucknall said. But, referring to the UK's vote for Brexit, she added: "Just because the business community thinks something is insane, doesn't mean it's not going to happen".
Of most concern to UK construction is Trump's protectionist economic stance.
Will Waller, market intelligence lead at Mace, commented: "Given America's significance to the UK as a trading partner and investor, UK construction will hope that any potential for protectionism or isolationism will be limited."
Ben Derbyshire, RIBA president-elect and managing partner at architecture practice HTA, voiced concerns a Trump presidency, hot on the heels of Brexit, could hasten a general clampdown on freedom of movement between countries for professionals.