Consultant suggests a 'soft Brexit' could boost output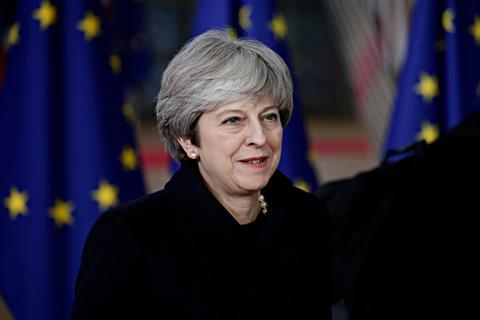 The UK construction sector could witness a 'Brexit bounce' and see output growth reach 5% this year and in 2020 – but only if the country leaves the EU with a deal next month, according to new research.
Consultant Arcadis predicted the output hike in its latest Winter Market View forecast report, assuming Theresa May's government secured a deal with Brussels.
Returning certainty in the event of a managed withdrawal and less focus on no-deal planning could boost output, the consultant added.
Will Waller, Arcadis' head of market intelligence, said Brexit had at once exposed the challenges and opportunities facing construction and detracted from the industry's ability to act on them "by absorbing attention and focus".
He went on: "[The leaving date of] 29 March won't signal the end of Brexit but it should mark the point at which the industry can perhaps refocus on other things.
"Readiness is key. By now many organisations will have post-Brexit contingency plans in place and these should continue to be reviewed and honed.
"Working jointly and collaboratively as an industry is going to be the most effective means of managing risk and taking advantage of more positive economic signals as they emerge."
Arcadis urged the domestic construction sector to "focus on building long-term resilience" while a deal with the EU "may allow some certainty to return to the market".
But it said that firms needed to engage with supply chains, review procurement strategies contracts for Brexit-related risks, undertake due diligence, and make contingency plans, including being prepared for costs to escalate.
Arcadis said it expected tender price inflation to rise to 3% between now and 2022 for both regional and London markets under a soft Brexit, in line with its forecasts late last year.
The report said the market in 2019 could turn out to be the weakest since 2012, with office construction expected to decline in 2019 and 2020, a weakened retail sector remaining flat and residential and infrastructure sectors likely to see continued growth to 2020.