Aude appoints Oxford Brookes estates boss as chair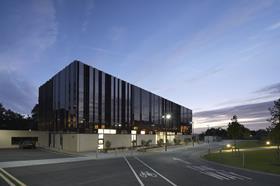 Sue Holmes, director of estates and facilities management at Oxford Brookes University, has been appointed as chair of the Association for University Directors of Estates (Aude).
The representative body promotes good practice and knowledge sharing relating to the strategic planning, management, operation and development of higher education estates and facilities.
Holmes, who joined Brookes in 2013 after serving as director of estates at Leeds Metropolitan University, will serve as Aude chair for a year.
A statement from Aude said she is an expert on university space management, and has developed innovative spaces "which create flexible and interesting areas in which to develop teaching and learning".
She has spoken internationally on space design in UK higher education.
Outgoing Aude chair, Andrew Burgess, deputy chief operating officer at Loughborough University, said: "A flourishing, professional university estates sector is a key enabler of guaranteeing a high quality student experience and I am in no doubt that Sue and Aude will continue to guide, support and offer expert opinion in best practice."
Holmes also previously worked at Sheffield Hallam University as director of estates. She originally trained as a teacher worked in local government.