Housing committee says modern technologies will help boost production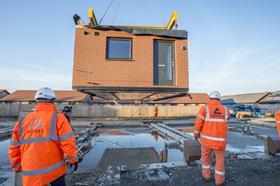 The government is in danger of letting slip its target of 300,000 homes being built annually by the middle of the next decade due to an "over-reliance" on traditional construction techniques, a group of influential MPs has warned.
A report written by the Housing, Communities and Local Government Committee, headed by Labour MP Clive Betts, has said ministers will have to act quickly if they are to increase capacity and improve investor confidence and not to miss out on the potential that modern methods of construction (MMC) offer.
Betts said: "This is not simply about shifting production away from the building site and into factories. It is about seizing opportunities that modern technologies allow."
Today's report says the MHCLG should track how much of its total spending on housing goes towards MMC developments.
And it said government should monitor how many homes are built using MMC annually, boost training in MMC and encourage local authorities to build more homes using new technologies.